WEBCAM SANTA CRUZ DE TENERIFE, Candelaria Square
<! ..-- santa cruz de tenerife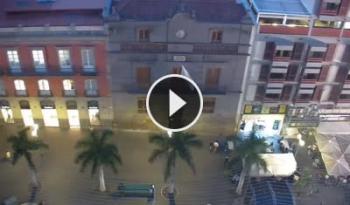 Located in the center of the city of Santa Cruz de Tenerife
The Plaza de La Candelaria, Located in the city center Santa Cruz of Tenerife, Limited to Castle street and the Spain Square. They are located in this, several important buildings such as the Charter Palace, Casino de Tenerife, etc.
The square, since its inception, considered the main gate of the city, dating from the eighteenth century has had several names (Plaza de Castillo, Plaza de la Pila, Plaza Real, Plaza de la Constitution ...). In 1778 the monument was located "Triumph of the Virgin of Candelaria"(Patron saint of Tenerife). It is a pedestrian square, which has many daily activities, which are numerous buildings dedicated to offices, homes, bars, restaurants, etc.
This camera overlooks the square and is one of the most followed during the celebration of the carnivals. It is located on the roof of building Chamber of Commerce Santa Cruz de Tenerife, historic home for over 80 years.