WEBCAM LA OROTAVA, Town Hall Square
<!..--la orotava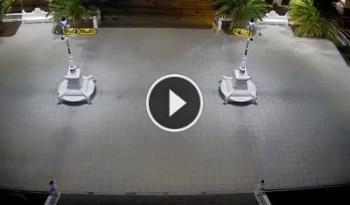 La Orotava, municipio ubicado al norte de la isla de Tenerife
La Orotava, municipio ubicado al norte de la isla de Tenerife, posee un Old Town with great architectural value.
The camera offers views from the deck town hall (Palacio Municipal), edificio neoclásico de mediados del siglo XIX. Se trata de una cámara en movimiento, que regala imágenes 360º de la Town Hall Square. En sus más de 900 m2 It is made famous carpet volcanic soil de diferentes tonalidades, durante la celebración del Body of Christ.
En el recorrido de la cámara, podemos ver The Hijuela Botanical Garden, situado en la parte trasera del ayuntamiento, romántico jardín de más de 4.000 m2, declarado Cultural Interest en 2008. Al suroeste se disfruta de una espectacular vista del Teide, así como del municipio de Los Realejos. Al norte se aprecia el municipio parte del Cross port and east of St. Ursula.