WEBCAM LAS PALMAS, Las Canteras, Playa Grande
<!..--webcam las palmas,las canteras, playa grande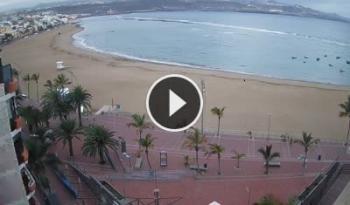 Las Palmas beach La Grande
Big beach, Located in northern arch of La Playa de Las Canteras it is one of the designated areas for diving. With a maximum depth of 5 meters and with gentle waves, it makes it a perfect place to practice snorkeling and enjoyment of children and adults.
Along the Paseo de Las Canteras you can find places like: La Puntilla, Singer Maria Merida, poet Saulo Toron, Suso Mariátegui Tenor, Architect Miguel Martin Fernandez de la Torre, etc.
Another year, the Playa de Las Canteras has been included among the top 10 beaches in Spain by Travellers Choice Playas 2018. It also has the Environmental Management System (UNE-EN ISO 14001) and Certificate of Universal Accessibility, Blue Flag and Q for Quality Tourism. At the end of 2017 it has been declared beach "Smoke Free"To provide a cleaner, healthier and more respectful of the natural environment and its visitors space.